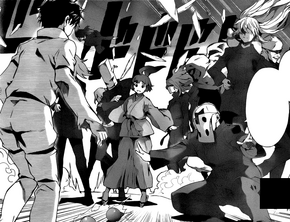 Group of Ten is a political organization that is at the top of the Dazaifu Central Bureau. Every one of its members is an Order User.[1]
The Group of Ten is the main authoritative power within the Dazaifu Central Bureau, and thus, it controls the political decisions of Kyushu.[2] Their members are distinguished by their titles, which are referred to as Hands.
The Group of Ten had put Hoshimiya Eiji through a trial to evaluate his strength.[5] Having been impressed by his capability, they disclose to Eiji that they, the Order Leaders, have a purpose to accomplish, which is to create a "New World".[6]
They plan to establish Kyushu as an independent country, separate from Japan, and decide to institute a "declaration of war", pronouncing Eiji as Kyushu's ruler.[7] Furthermore, they plan to invade Tokyo and conquer Yamaguchi.[8]
In the Dazaifu Central Bureau, the Group of Ten holds their Yamaguchi invasion battle plan meeting.[9] Kunou Mari, the war strategist, goes over their goal: to conquer the world and establish a new world that is beneficial to Order Users.[10] Their priority at the moment is to invade Yamaguchi, but the problem is the "Mineralization" Order User, nicknamed Heavy Rock Star, who currently occupies that region.[11] She decides that Eiji will lead the invasion, but refuses to tell him about the details until they are at the field.[12]
Later, the Group of Ten and Eiji has a meeting with the Japanese prime minister through telecommunication[13] where Mari asserts to him that they are all under Eiji's control.[14] As a result, the prime minister reveals that he has held the relatives of the Group of Ten in Tokyo as hostages and initiates an execution of them, one by one.[15] The Group of Ten are appalled that even though they had sent word to their relatives to hide, they are found so quickly.[16]
They and Eiji officially declare war.[17]
Community content is available under
CC-BY-SA
unless otherwise noted.